(Deuteronomy 16:13-14) Thou shalt observe the feast of tabernacles seven days, after that thou hast gathered in thy corn and thy wine:
And thou shalt rejoice in thy feast, thou, and thy son, and thy daughter, and thy manservant, and thy maidservant, and the Levite, the stranger, and the fatherless, and the widow, that are within thy gates.

We have the entire campground, so we are able to offer a variety of primitive tent camping, RV camping, rooms, as well as swimming, boating and tubing, in the Large spring fed lake. We also have volleyball, basketball, human foosball, paint-ball, archery, a large activity field, canoes, game room, campfire ring, ski-boat and tubing, teaching, and air conditioned meeting room facilities, all at one low cost. T-shirts, as well as other items, may be purchased in our large messianic marketplace.
(Deuteronomy 16:15) Seven days shalt thou keep a solemn feast unto the LORD thy God in the place which the LORD shall choose: because the LORD thy God shall bless thee in all thine increase, and in all the works of thine hands, therefore thou shalt surely rejoice.
REGISTRATION IS CLOSED!
RATES ARE "PER PERSON" NOT "PER ROOM"-this is an "all inclusive" facility

ALL costs below include your lodging and all activities such as water slide, water sports (including canoeing, ski boat, water trampoline), archery, mini golf, Foosball, volleyball, basketball, children's program , teen program and facilities use
An additional Fee of $425.00 per family (immediate family only), $275.00 per couple or $150.00 for individual will be charged for breakfast, lunch and dinner fellowship meals which are served daily.

Note: Children 3 and under are free.
FAMILY RATES ARE FOR "IMMEDIATE FAMILY" ONLY AND FOR A FAMILY OF 4 - ADDITIONAL CHARGE FAMILIES WITH MORE THAN 4 MEMBERS.

CAMPING-
All tent camping is semi-primitive. There will be minimal electric available for lights only (no appliances).
There is a community Fire/ring where night midrash may take place. RV's will need to refer to RV site rates.
Tent camping costs are:

Entire Feast: Single: $175.00 for the entire Feast.(Plus meals)
Couple: $290.00 for the entire Feast. (plus Meals)
Family: $375.00 for the entire Feast. (Plus meals)
*
*
Rate is for a family of 4. Additional charge of 70.00 per person over Family rate of 4.
RV SITES: All RV Sites have full hook-up and can only be reserved for the entire Feast.
For RV's and Pop-ups. Each site has 20/30/50 amp service, water and sewer hook up. These sites will be reserved on a first come first serve basis. RV sites are:
Entire Feast: Single/Couple : $325.00 for the entire Feast. (Plus Meals)
*Family: $425.00 for the entire Feast* (Plus Meals)
*Rate is for a family of 4. Additional charge of 7.00 a day per person over Family rate of 4.


ROOMS: HURRY! Only two Rooms Remaining!
Secure your room Today!
Rooms vary and have a mix of double beds and bunk beds, or larger rooms with only bunk beds, they are simple but large, all have new mattresses and their own private, sometimes double bathrooms and shower. All have central heat and air. No smoking in the room unless you are on fire, in which case we recommend jumping in the large private shower located in your room, or run out to the spring-fed lake if you are properly attired. :-)
The rooms are furnished with sheets, blankets, towels, soap and toilet paper. It is recommended that you bring extra towels.
RATES:

Entire Feast:
Single/Couple: $700.00 for the entire Feast. (Plus Meals) Family : $825.00 for the entire Feast. (up to 4 persons)** (Plus Meals)
Sharing a Dorm: $500.00 each person for the entire Feast. (Plus Meals)
** Rate is for a family of 4. Additional person $120.00 over the Family of 4 rate. For Large families, please contact Christi at 386-336-5679.

CANCELLATION POLICY- ALL rooms must be paid in full to hold the room. If you must cancel, you will receive a full refund up to four weeks before the event. If you cancel within four weeks of the event, a 50% charge will be retained and no refund within 3 weeks of the event.

Please notify us at (386) 336-5679 immediately of any changes or cancellations.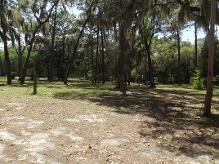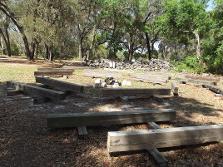 Primitive tent camping however, RV sites Fire ring for nightly midrash have full hook up Fire wood is provided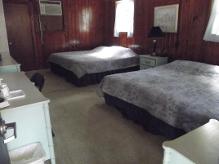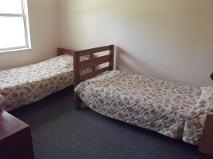 The room above now has bunk beds and most have, double beds or single beds.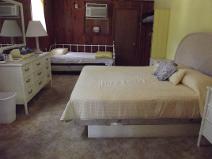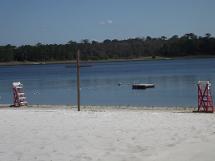 Spring fed lake for swimming, boating and water sports with a sandy beach.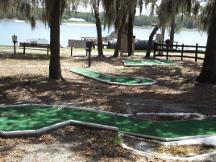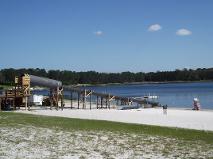 Miniature golf, game room, basket ball, volley ball, archery, activity field, swing set, obstacle course and a huge slide into a spring fed lake.